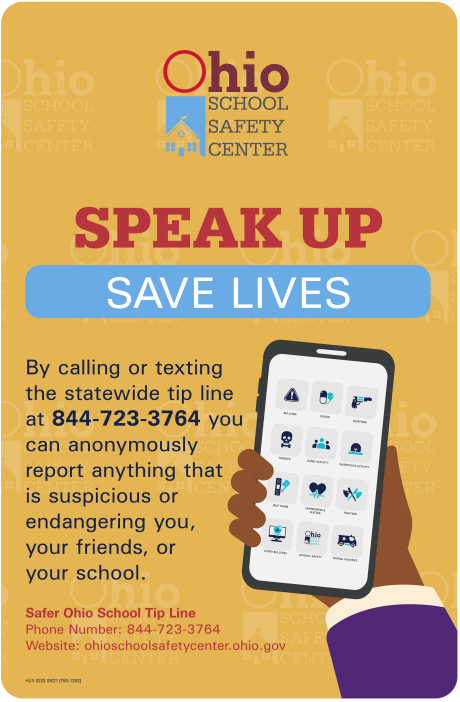 Speak Up Save Lives Safer Ohio School Tip Line
The 2022 – 2023 school year has begun, and there is no better time than now to implement and/or promote the use of the Safer Ohio School Tip Line. The Safer Ohio School Tip Line is a free, 24/7 anonymous reporting system for schools. The Ohio School Safety Center (OSSC) also provides marketing materials, including posters, cards, and animated videos, that may be displayed or distributed throughout your district or building, and promoted on your school webpage.
The OSSC webpage also contains information that will help with the implementation of the tip line, including advice on policies and procedures, how to educate the community on the tip line, and how to continuously market it to promote information sharing.
Any questions related to the Safer Ohio School Tip Line may be sent to saferohioschooltipline@dps.ohio.gov.
How to register for the Safer Ohio School Tip Line:
While your district may still receive a tip on the Safer Ohio School Tip Line if you are not registered, registration is required to receive the promotional materials. The registration process begins by the visiting the Ohio School Safety Center webpage, where you may also request promotional materials. You can begin the registration process by clicking here.
How to track and report the data:
HB 123 includes a requirement that schools provide data regarding their anonymous reporting system and the tips received. Last school year, the tip line data was reported on a worksheet provided by the OSSC. This same method to report the data will continue this school year. This information should be documented through the school year to ensure proper reporting, as well as make the reporting requirement easier at the end of the year.
You may find the worksheet on the Ohio School Safety Center webpage. The worksheet has a few revisions for 2022 – 2023 school year. If you do not have any tips to report, you may now select that option on the worksheet.
Any data collected by the Safer Ohio School Tip Line or an anonymous reporting program or reported to the department of education or department of public safety pursuant to this section are security records and are not public records pursuant to section 149.433 of the Revised Code.
Update Emergency Contact Information
Even if your school has their own tip line service, it is important to keep your "Emergency Contact Sheet" up-to-date. The emergency contact sheet is included with your school safety plan and will ensure the OSSC can provide you with timely information related to any tips received.
Check to make sure your appropriate law enforcement agency with jurisdiction is listed and update your school administrator and school resource officer/security personnel if applicable. Outdated information can cause delays in receiving tips. For step-by-step instructions on how to upload your new contact sheet, please click here.
988 Lifeline
Ohioans experiencing suicidal crisis, mental health or addiction-related distress can now call 988, an easy-to-remember three-digit number to access free, 24/7, confidential support for themselves or loved ones.
The Lifeline provides live crisis phone services in English and Spanish and uses Language Line Solutions to provide translation services in over 250 additional languages for people who call 988. The 988 dialing code will also be available nationwide for text or chat (English only).